Content Strategies
Written by Brian Anderson, Associate Editor
Wednesday, 09 July 2014 09:07
B2B marketers have long segmented their audiences by role, industry and company size, among other criteria. Some progressive B2B marketers are now adding "generation" to that mix as they look for ways to capture the attention of Millennial buyers as they rise through the ranks and move into decision-making roles.
Roughly one fifth (21%) of the participants in this year's Content Preferences Survey are part of the Millennial generation, and that number will continue to grow. The Millennial generation is gradually growing into the B2B buyer role, and marketers need to understand what motivates and entices buyers in this age bracket compared to their more seasoned brethren.
Read more...
Industry News
Tuesday, 08 July 2014 08:19
Vidyard has introduced Vidyard Video Hubs, a product that enables marketers to create custom-branded video channels on their own corporate web sites. Built on the Vidyard video marketing platform, Video Hubs is a turnkey solution for creating immersive video channels that can identify and track individual viewers and report on the performance of each video asset.
The majority of video content has been spread across countless landing pages and off-site channels, limiting discoverability and hindering a brand's ability to glean valuable information about audience engagement and to take advantage of the SEO benefits of a growing video library.
Read more...
Industry News
Monday, 07 July 2014 15:24
Merkle, a CRM and marketing agency, has acquired RKG, a search and digital marketing agency based in Charlottesville, Va. Financial terms of the deal have not been disclosed.
This marks the second digital agency acquisition Merkle has completed in 2014, putting the agency on a promising path for the rest of the year. Between 2012 and 2013, Merkle experienced a net revenue increase of 43%.
Read more...
Industry News
Monday, 07 July 2014 09:13
Orange Business Services, an international network and managed IT services provider, announced that Salesforce is now available via the company's cloud hub.
The Business VPM Galerie hub gives Orange customers admittance to company — and partner company — SaaS and infrastructure software, all via the cloud. The announcement, made at the Salesforce1 World Tour in Paris, France, combines the benefits of VPN networks with the tractability of Salesforce's cloud computing model.
Read more...
Industry News
Thursday, 03 July 2014 08:39
New data shows that three out of four marketers are looking to further optimize their nurturing strategies and 82% plan to increase spend on marketing technologies in the second half of 2014. Those were some of the key results of the annual State of B2B Lead Nurturing. The study, conducted by Bizo in association with Oracle Marketing Cloud, gathered responses from more than 500 B2B digital marketers.
Nearly 60% of these marketers reported that they are delivering at least 20% of B2B company revenues, and almost 25% contributing more than 40%.
Read more...
<< Start < Prev 1 2 3 4 5

6

7 8 9 10 Next > End >>


Page 6 of 264
Demanding Views
By Brian Kelly, CMO, InsideView
Marketing and sales departments in most companies are not working cohesively. This disconnect creates a less-than-effective strategy to develop long-lasting relationships with leads. Marketers traditionally gather minimal information about leads, which they then transfer to sales professionals who attempt to make a connection. This process is generally inefficient and ineffective.
Read more...
Bulletin Board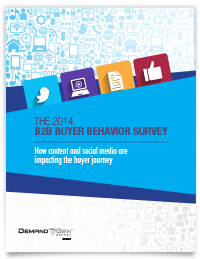 Demand Gen Report's 2014 B2B Buyer Behavior Survey provides insights into how B2B buyers make their decisions. Buyers are waiting longer to engage with sales, but they are more satisfied with the process than in years past. For an in-depth look at this research, download the report now!
Solution Spotlight
VideoShare is a new solution from uStudio positioned to help organizations share videos and measure their use across sales, marketing and services operations.
Read more...
Follow Us
Industry Events
When: August 10 – 12, 2014
Where: New York, NY
This three day conference includes an exhibit hall with affiliates, merchants, vendors, and networks, as well as multiple tracks of educational sessions covering the latest trends and information from affiliate marketing experts.
Read more...
When: September 15 – 18, 2014
Where: Boston, MA
INBOUND's purpose is to provide the inspiration, education, and connections you need to transform your business. This September, we will host thousands of marketing and sales professionals from almost every industry imaginable and from all corners of the globe at the Boston Convention & Exhibition Center. In 2013, we had 5,500 attendees from 35 countries, and we're excited to be bigger than ever this year.
Read more...
When: October 8 – 10, 2014
Where: Boston, MA
Are you armed and ready to meet the marketing challenges of today, tomorrow, and beyond? With technology and the way we live changing rapidly, B2B marketers have so many options and tools that it can be overwhelming. At the 2014 B2B Marketing Forum we will have inspirational speakers presenting on the hottest, smartest topics—giving you the knowledge you need to thrive in 2014, 2015 and beyond. Get ready to bullet-proof your marketing for the future and come out a modern marketing rock star!
Read more...