Social & Mobile
Monday, 02 March 2015 09:27
Swrve, a provider of mobile marketing automation, plans to acquire Converser, a mobile engagement technology vendor. The combined platform is positioned to help marketers create, test, deploy and measure mobile app marketing campaigns as they currently do with email marketing campaigns, according to company officials.

Marketo, Oracle Eloqua and Tableau are among the partners that have pre-integrated with Swrve.
Read more...
Industry News
Friday, 27 February 2015 10:28
ZoomInfo, a B2B database software company, launched FormComplete, a solution that positions users to increase inbound conversion rates with real-time data provided through shorter lead generation forms. This data can then be synced into the user's CRM or marketing automation solution.
The solution is also designed to flag inaccurate information and complete missing fields. This feature intends to keep information flowing into the CRM in the correct format, while also routing leads to the correct sales rep.
Read more...
Industry News
Thursday, 26 February 2015 10:32
While 40% of large technology companies plan to increase their inside sales headcount by 2016, inside sales reps currently make up only 10% of these companies' sales teams. By comparison, inside sales reps make up 55% of the overall sales teams at small businesses and startups.
These are just a few of the findings of a recent study conducted by ZS Associates. The survey was conducted alongside Reality Works Group, an inside sales strategy and implementation consultancy.
Read more...
Demand Generation Strategies
Written by The Demand Gen Report Staff
Wednesday, 25 February 2015 11:22
During his presentation as part of the Demand Gen Summit track at the B2B Content2Conversion Conference, Jason Hekl — VP and Group Director of SiriusDecisions — described the concept of "small-net fishing," in which marketers proactively target narrowly defined groups of new prospects.
His remarks mirrored the strategies of many speakers and attendees who are moving toward micro-campaigns and more targeted messaging to smaller subsets of their databases.
Read more...
Rich Media
Wednesday, 25 February 2015 00:00
Scottsdale, AZ was the ultimate destination for content marketing and demand generation insights, best practices and case studies during this year's B2B Content2Conversion Conference, hosted by Demand Gen Report.
During the three-day event, more than 400 B2B marketing professionals converged at the Hyatt Regency Resort at Gainey Ranch to learn how they can bring their campaigns to the next level by embracing new tactics and solutions.
Read more...
<< Start < Prev 1 2 3 4 5

6

7 8 9 10 Next > End >>


Page 6 of 308
Demanding Views
By Braveen Kumar, Uberflip
Sooner or later, when they receive enough attention, useful advice and content marketing tactics run the risk of giving birth to buzzwords and generalized best practices.
Somewhere down the line, we lose sight of their initial usefulness or, worse, how they've evolved over time. It's worth taking another look at these "best practices" to revisit their real value and relevance.
Read more...
Bulletin Board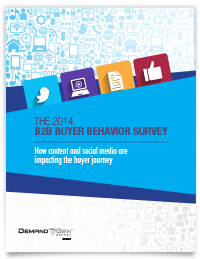 Demand Gen Report's 2014 B2B Buyer Behavior Survey provides insights into how B2B buyers make their decisions. Buyers are waiting longer to engage with sales, but they are more satisfied with the process than in years past. For an in-depth look at this research, download the report now!
Solution Spotlight
The DialogTech Voice360 platform is a call analytics and automation solution designed to help marketers drive conversations with prospects that enhance revenue opportunities and maximize ROI.
Read more...
Follow Us
Industry Events
When: March 31 - April 1, 2015
Where: San Francisco, CA
MarTech is a vendor-agnostic forum for understanding the breadth of marketing technologies and how organizations can effectively integrate them into their marketing strategy and operations.
Read more...
When: April 14 - 15, 2015
Where: New York, NY
In the age of the customer, marketers face three acute strategic and operational challenges: how to connect with distracted, empowered customers; how to engage customers once those connections are made; and how to nurture customer obsession as a strategic imperative throughout the organization. This Forum will teach you how to build and lead a next-generation marketing organization focused on customer obsession.
Read more...
When: June 8 - 11, 2015
Where: Chicago, IL
eMetrics Summit is the only comprehensive event dedicated to digital analytics and marketing optimization. As the leading conference covering the impact of data & technology on marketing, the eMetrics Summit focuses on driving business results through data analysis and technology adoption.
Read more...