Industry News
Monday, 18 November 2013 09:25
Vidyard has launched Vidyard for Salesforce, providing an interface to upload and share videos with internal teams, contacts and leads. The app is available for download on the Salesforce AppExchange.
The app is designed to provide video views and engagement data — including which videos are being watched, by whom and for how long — directly in Salesforce. This gives sales reps more detailed context on a prospect's interests, helping to drive more productive interactions, according to company officials.
Read more...
Industry News
Friday, 15 November 2013 07:32
SalesFUSION announced the launch of a new partner program that will include co-marketing and complete onboarding programs for CRM partners. The company has also updated its integration with Microsoft Dynamics 2013, allowing companies to continue their use of both programs effortlessly.
The new partner program, which was unveiled at the eXtreme CRM 2013 event in California, offers onboarding, certification and training programs that enable CRM partners to profit from the pairing of marketing automation and CRM solutions.
Read more...
Industry News
Thursday, 14 November 2013 09:51
Demandbase, a targeting and personalization platform, launched B2B Retargeting, which is designed to help B2B marketers maximize their ROI for company-targeted advertising.
The new Demandbase solution enables B2B marketers to establish criteria for relevance and readiness to buy and automatically display ads to prospects who exhibit those buying signals.
Read more...
Content Strategies
Written by Glenn Taylor, Associate Editor
Wednesday, 13 November 2013 14:33
With the rollout of Google's new Hummingbird algorithm in September 2013, B2B marketers no longer receive keyword search data in their Google Analytics reports. Some refer to it as the "[not provided]" problem, as that it the message they get in place of the data. While the change was in the works for two years, it still has some marketers scrambling to find alternative ways to direct online traffic to their web sites.
Progressive marketers are responding to this change by making original, high-quality content the cornerstone of their search marketing efforts. Many are also optimizing their sites for the conversational, question-type queries that Hummingbird is designed to recognize.
Read more...
Rich Media
Wednesday, 13 November 2013 09:50
Investment in email marketing is expected to reach $2 billion by 2014 and 59% of B2B marketers say email is the most effective channel for generating revenue. Those are just a few of the email marketing statistics shared by Trumpia, a digital marketing company.
Read more...
<< Start < Prev 1 2 3 4 5

6

7 8 9 10 Next > End >>


Page 6 of 216
Bulletin Board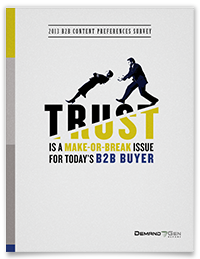 Download Demand Gen Report's 2013 Content Preferences Survey for the latest research on the content that matters most to B2B buyers.
Solution Spotlight
The Invoca For Salesforce app integrates the vendor's inbound call marketing platform into Salesforce to provide marketers with broader marketing automation capabilities, including Invoca's call routing, tracking and analytics features.
Read more...
Follow Us
Demanding Views
As we look to the coming year, Demand Gen Report will publish a series of predictions for 2014 from industry leaders.
By Atri Chatterjee, CMO, Act-On Software
Mobility and content curation and email will be among the main drivers for B2B marketers in the new year. Here are my top five predictions for 2014.
Read more...
Industry Events
When? August 19-22
Where? Hynes Convention Center - 900 Boylston Street - Boston, MA
That's right, the INBOUND conference is a must-attend event for marketers worldwide to experience the inbound marketing movement by learning, watching, using, talking, and networking for four whole days in the heart of Boston's emerging tech scene.
Read more...

When: April 8-10, 2013.
Where: Hilton San Francisco Union Square - 333 O'Farrell St., San Francisco, CA.
No matter what time of year you visit San Francisco, you'll find plenty of things to see and do. San Francisco is home to world-class restaurants, breath-taking sites and beautiful scenery.
Tweet with us: #mus13
Read more...
Achieving Measurable Marketing Results Across The Enterprise
Date: June 26, 2012 Time: 8am - 12pm Where: MacArthur Park Restaurant in Palo Alto, CA
Read more...
September 4-5-6, Columbus Convention Center
Columbus, Ohio USA
Read more...