Rich Media
Wednesday, 02 April 2014 00:00
In less than three years, Google+ has distinguished itself with strong content and engaging dialogue. Being smart on Google+ is essential for any content marketer. Here's how to get started. This infographic from Prestige Marketing points out the three things that Google+ does better than other social media networks.
Read more...
Content Strategies
Written by Brian Anderson, Associate Editor
Wednesday, 02 April 2014 08:08
Content marketing has become an integral part of the B2B landscape. Interactive and video content are gaining significant traction as marketers seek more engaging alternatives to standard white papers and E-books. According to the 2013 Dem
and Gen Report B2B Content Preferences Survey, 50% of respondents said they had viewed a video to research a B2B purchasing decision in the past year.
Video and interactive content offer a rich set of metrics and the ability to add more compelling calls to action based on how the buyer engages with the video or interactive content. If, for example, a buyer exhibits an interest in a segment of a video on a particular feature of your offering, they can be directed to a white paper for more detailed information.
Read more...
Demand Generation Strategies
Written by Alicia Fiorletta, Senior Editor
Tuesday, 01 April 2014 07:13
This story originally appeared in Demand Gen Report's sister publication, Channel Marketer Report.
HP is in the midst of a five-year transition— with the channel being at the heart of the process. Over the past year, the company has focused on three core pillars to increase partner engagement and success: Simplicity, profitability and predictability.
Now venturing into its third year of its five-year plan, HP has transformed its PartnerOne program and is working toward making its channel marketing initiatives competitive differentiators for the company as a whole.
Read more...
Industry News
Monday, 31 March 2014 11:30
IBM announced its plans to invest $100 million to globally expand its marketing consulting services. As part of the investment, the company plans to 10 new IBM Interactive Experience labs, which are designed to provide clients with the opportunity to work with experts in mobile and digital marketing.
In a separate effort to bolster its marketing offerings, the vendor is said to be in talks to acquire marketing automation vendor Silverpop.
Read more...
Content Strategies
Monday, 31 March 2014 07:00
Business buyers have become more reliant on third-party information to make business decisions and look to content sharing circles to help them along the buying process, according to a new study conducted by The CMO Council in partnership with NetLine Corporation.
The study, titled: The Content Connection to Vendor Selection, provides insight into how different types of marketing content impact critical stages of the buying process.
Read more...
<< Start < Prev 1 2 3 4 5

6

7 8 9 10 Next > End >>


Page 6 of 243
Demanding Views
By Loren Padelford, EVP of Sales, Skura Corporation
Companies are now required to hone their sales and marketing efforts to the individual needs and interests of each prospect in order to provide positive customer experiences amid the cacophony of today's marketing-soaked landscape. After all, 81% of companies with strong customer experience competencies outperform their competition, according to Peppers & Rogers Group.
Getting the right content to the right people remains a challenge for B2B marketers, and yet, there are a number of best practices that can be applied to sales efforts and marketing content creation that, even if a prospect hasn't told you what their exact needs are, can improve your chances of delivering a responsive, and timely sales pitch that aligns with your prospect's needs.
Read more...
Bulletin Board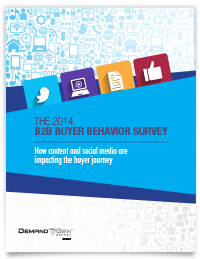 Demand Gen Report's 2014 B2B Buyer Behavior Survey provides insights into how B2B buyers make their decisions. Buyers are waiting longer to engage with sales, but they are more satisfied with the process than in years past. For an in-depth look at this research, download the report now!
Solution Spotlight
The KnowledgeTree content marketing app for Salesforce matches relevant content to leads and opportunities. The tool is designed to identify the most germane, current and effective content for each sales interaction with prospects.
Read more...
Follow Us
Industry Events
When: April 7 – 9, 2014
Where: San Francisco, CA
Join the Marketing Nation as over 3,500 of your peers, colleagues and thought leaders gather to celebrate Innovation in the Nation. Summit 2014 will provide an engaging experience to grow your expertise and network over two and a half days. Connect with ideas, marketers, and resources to help YOU achieve success faster!
Read more...
When: April 23 – 25, 2014
Where: Phoenix, AZ
#ICON14 is the eighth annual conference for small business, hosted by Infusionsoft. This 3-day event brings together the brightest minds in small business from around the world to learn, network and share best practices for success. The event provides everything from inspiring keynote speakers to hands-on Infusionsoft training, plus tips on lead generation, conversion and customer delight. Breakout sessions cover a range of topics like Infusionsoft product training, marketing strategy, social media, business management, automation, branding, copywriting, affiliate marketing and more.
Read more...
When: May 21 – 23, 2014
Where: Orlando, FL
The SiriusDecisions' annual Summit is a unique three-day conference where SiriusDecisions analysts and top sales and marketing leaders from Fortune 500 companies and major SMBs share how b-to-b organizations are solving critical issues that hinder predictable growth. Each year, the theme focuses on aspects of how sales and marketing can, and should, intersect.
Read more...