Marketing Analytics
Written by Brian Anderson, Associate Editor
Wednesday, 22 April 2015 11:51
Buyer personas have been a staple of B2B marketing for a number of years. But many B2B marketers lack a formal process for developing personas, and they are still relying on hunches about their target customers rather than data.
As a result, a vast majority (83%) of B2B marketers say that their buyer personas are only "somewhat" effective, according to a study from the ITSMA. While 80% of respondents expected to see higher conversion rates with buyer personas, only 39% saw their conversion rates increase.
Read more...
Industry News
Tuesday, 21 April 2015 08:19
BrightInfo, a content analysis and web site personalization tool, has integrated with HubSpot's marketing automation platform. The move positions marketers to automatically generate individualized content recommendations for anonymous visitors to their web site or landing pages based on buyer behaviors.
The integration is designed to give BrightInfo access to the user's portfolio of content located within HubSpot, which can then be used to automatically provide content recommendations based on how visitors are behaving. Supplying visitors with this relevant content is intended to help move anonymous visitors along the buying cycle, ultimately turning them into known prospects and boosting conversion rates.
Read more...
Industry News
Monday, 20 April 2015 10:00
Pageflex Inc., a dynamic publishing and multichannel marketing solutions provider, has acquired EarthIntegrate, the provider of a localized marketing automation solution, for an undisclosed fee.
The combined solutions position Pageflex to offer a seamless sales and marketing experience, while also boosting productivity by allowing users to launch campaigns across multiple channels.
Read more...
Industry News
Friday, 17 April 2015 08:50
BrightFunnel, a revenue attribution platform provider, unveiled its Revenue Waterfall tool, a solution designed to automate the process of tracking leads through the buyer's funnel.
The tool positions users to gain insights into how leads are entering and progressing through the buying funnel, ultimately enabling marketers to connect the dots between marketing spend and company revenue.
Read more...
Industry News
Thursday, 16 April 2015 10:54
Autopilot, a multichannel marketing automation platform provider, is partnering with GoodData, a SaaS-based business intelligence company. This move positions Autopilot users to gain insights into how customers and prospects are engaging through multiple channels and various stages of the buyer's journey.
In addition, the data provided by GoodData can help users track and measure marketing's impact on the bottom line.
Read more...
<< Start < Prev 1 2 3 4 5

6

7 8 9 10 Next > End >>


Page 6 of 318
Demanding Views
By Suresh Balasubramanian, LiveHive
Without synchronization between sales and marketing, the business suffers. According to Aberdeen Group, the lack of integration of sales intelligence with sales and marketing systems causes the biggest gap between top sales performers and under-achievers. However, fewer than one out of 10 B2B companies report good alignment between their sales and marketing organizations, SiriusDecisions research shows.
Weak processes between sales and marketing have made it challenging for sales and marketing to work together successfully. While delivering immense value, existing CRM and marketing automation systems don't deliver a complete buyer picture for the organization. Furthermore, this data has not been easily shared across departments.
Read more...
Bulletin Board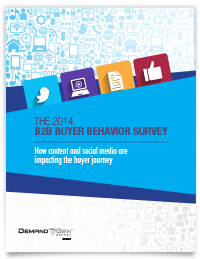 Demand Gen Report's 2014 B2B Buyer Behavior Survey provides insights into how B2B buyers make their decisions. Buyers are waiting longer to engage with sales, but they are more satisfied with the process than in years past. For an in-depth look at this research, download the report now!
Solution Spotlight
Insightpool is a social marketing platform designed to increase social media engagement with anonymous prospects within target audiences. The solution also positions marketers to produce personalized social campaigns that can nurture prospects through the buyer's journey.
Read more...