Revenue Strategies
Friday, 19 December 2014 09:24
Tellwise, a cloud-based sales acceleration technology provider, unveiled a platform designed to automate the sales lead tracking process and enhance engagement between prospective buyers and the sales rep.
The platform, which is integrated with Salesforce, is positioned to combine email, instant messaging, collaboration, and analytics in one location. It is also intended to deliver highly-focused content that relates and resonates with prospective buyers.
Read more...
Industry News
Thursday, 18 December 2014 10:26
QuickPivot, a real-time cross-channel marketing platform, added Program Palette, a customer lifecycle planning and execution module, to its suite of tools.
The module, which is designed to simplify the deployment of customer lifecycle marketing programs, is positioned to provide a holistic, real-time view of customers' journeys.
Read more...
Demand Generation Strategies
Written by Brian Anderson, Associate Editor
Wednesday, 17 December 2014 11:45
While the role of digital marketing grows more prominent, in-person events continue to receive a significant portion of overall B2B marketing budgets. According to Forrester, trade shows still constitute the biggest line item on a B2B marketers budget, with nearly 20% of spend being committed to live events.
While progressive B2B marketers are seeking to measure the overall return on their investment in events, the numbers can be elusive, according to Laura Cross, Research Director for Demand Generation Strategies at SiriusDecisions. "It's difficult because marketers are being asked to prove the value from more than just a marketer's point-of-view. There has to be less focus on how many people are there, and more focus on the overall experience of the event."
Read more...
Rich Media
Wednesday, 17 December 2014 00:00
Many people believe that "free" in a subject line will relegate their emails the spam folder or that Monday mornings are the best times for sending emails. This infographic from Email Monks takes on some of these widely held beliefs.
Read more...
Social & Mobile
Tuesday, 16 December 2014 09:46
Flowfinity, an enterprise mobile apps provider, announced the launch of its revamped app editor, designed to help B2B marketers create and maintain mobile apps.
The product release also includes revision control, intended to ease app updates by allowing users to modify and test apps in a separate environment.
Read more...
<<

Start

<

Prev

1

2 3 4 5 6 7 8 9 10 Next > End >>


Page 1 of 291
Demanding Views
By Hana Abaza, Director of Marketing, Uberflip
Good, relevant content will attract visitors. Great content will keep them around a little longer. But only a truly optimized content marketing experience will ultimately convert those visitors into leads, and eventually customers.
Read more...
Bulletin Board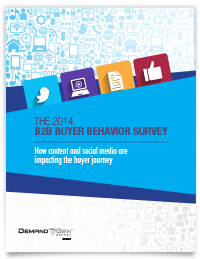 Demand Gen Report's 2014 B2B Buyer Behavior Survey provides insights into how B2B buyers make their decisions. Buyers are waiting longer to engage with sales, but they are more satisfied with the process than in years past. For an in-depth look at this research, download the report now!
Solution Spotlight
Apttus is a contract management solution designed to offer end-to-end contract lifecycle management, from the initial quote to the closed deal.
Read more...
Follow Us
Industry Events
When: February 16 - 18, 2015
Where: Scottsdale, AZ
The B2B Content2Conversion Conference brings together the top thought leaders and practitioners in both content and demand generation. The combined agenda provides real-world case study examples, as well as actionable takeaways on how marketers can better target, engage and convert prospects into customers. Taking place in Scottsdale, Arizona, the B2B Content2Conversion Conference provides you with a playbook to optimize your 2015 marketing plans.
Read more...
When: February 23 – 26, 2015
Where: Las Vegas, NV
Discover how-to details and strategies for fast, measurable digital marketing success. All of it is real-world experience grounded in rigorous research and taught by successful marketers who face your same challenges. Learn how to make your email campaigns — and your career — more successful than ever and do it within a world-class venue. It's no wonder leading organizations consider Email Summit a priority investment year after year.
Read more...